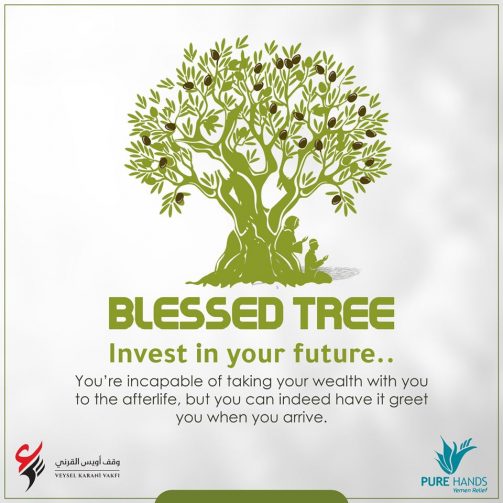 Launch of Blessed Tree Project
In partnership with the American PURE HANDS Organization, Owais Al-Qarni Waqf has launched a campaign in the United States and Canada for the waqf investment of the "Blessed Tree" project. The proceeds of this project will be spent on supporting education through a program that includes scholarships in the international universities for qualifying the talented and distinguished Yemenis and preparing them to be leaders in the future.
The "Blessed Tree" is a waqf investment project that invests in fruitful olive trees, which are not less than ten years old, on an area of 33 square meters of land for each tree in Turkey. The cost of one tree is $ 300 and it is paid once in a lifetime. It is worth noting that Owais Al-Qarni Waqf and the PURE HANDS Organization have signed a cooperation protocol stating that the Organization is an exclusive agent for the Waqf in North and South America and Canada.